Blueberries certainly make a welcome addition to all kinds of breakfast foods. They're delicious with cereal and oatmeal, and can add an extra healthy twist to your morning smoothie. But why stop there? This sweet and delicious berry pairs great with all kinds of other foods, and one of our recent favorites is this seasonal Tampa Bay Times recipe for blueberries paired with another healthy food, salmon.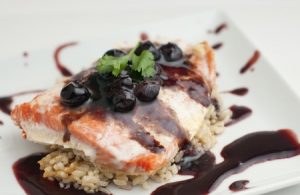 You may have tasted salmon with tropical chutney that featured fruits like pineapple or mangos, but this blueberry and salmon dish is something unexpectedly delicious. Since both items are in season at the moment, why not give it a try? The light and yummy dish is great for a quick meal at home with family, or for entertaining.
This recipe calls for a few simple items, including salmon, veggie oil, diced shallots, white wine, white wine vinegar, fresh sprigs of thyme, cinnamon sticks, unsalted butter, honey and, of course, blueberries.
All you need to do is simmer the shallots, wine, vinegar, thyme, cinnamon and a pinch of salt together, for about 20 minutes or until the liquid has evaporated. You want to have a thick base for the sauce.
Add the blueberries, butter and honey, and cook for a few more minutes until the berries are nice and soft and the mixture develops a pinkish color.
Place the salmon on a baking sheet (tinfoil is highly recommended, to avoid a messy cleanup!) and generously drizzle the berry mixture on top. Season with a bit of salt and pepper as needed, and bake at 400 degrees for about 10 minutes.
Delicious, nutritious and full of blueberry goodness! Not only are you having a healthy meal of lean and good-for-you fish, you'll be adding the benefits of blueberries to your diet. Stay tuned to our blog for more information on the power of blueberries, or contact us today to place an order.